Click below for a very recent review from Dave Westburg, an American guest, who stayed for a week last year. His article provides a good overview of the fishing on South Uist and staying with me at Kinloch.
Brown Trout in the Outer Hebrides - South Uist fishing
---
Note: I have increased the tariff slightly for the 2023 season.
Kinloch is a relatively small house – just 3 bedrooms - 1 twin/double upstairs with en-suite, 1 twin /double downstairs with private shower room and a single upstairs which has to share one of the bathrooms. So I prefer a maximum of 4 guests at a time.
Note: also that I continue to ask for a minimum stay of 2 nights. Payment should be by cash, cheque or bank transfer, I do not take credit or debit cards.
I continue to do the cooking – see The Food section – mostly including meat or fish – I can cater for vegetarians but have no experience of feeding vegans.
There is of course wi fi and a TV set in the lounge – there are no TVs in the bedrooms and tea and coffee can be made in the kitchen but again not in the bedrooms.
---
Kinloch on South Uist offers some of the finest accommodation on the island.
Kinloch is much more than a traditional Bed and Breakfast, 90% of my guests take dinner with me and the food is very highly rated.
More like a traditional Lodge or Guest house, Kinloch is the ideal place to stay on your visit to South Uist, in the Outer Hebrides – sometimes referred to as the Western Isles.
Kinloch stands on the shores of Loch Druidibeg and is now run by RSPB in association with the community company.
See below HRH Prince Philip on the oars on the Loch in 1963. Accompanied by the then retired blacksmith Murdoch MacRury who was the first warden of the recently formed Nature reserve. Kinloch was not built then so HRH stayed at the nearby Grogarry Lodge.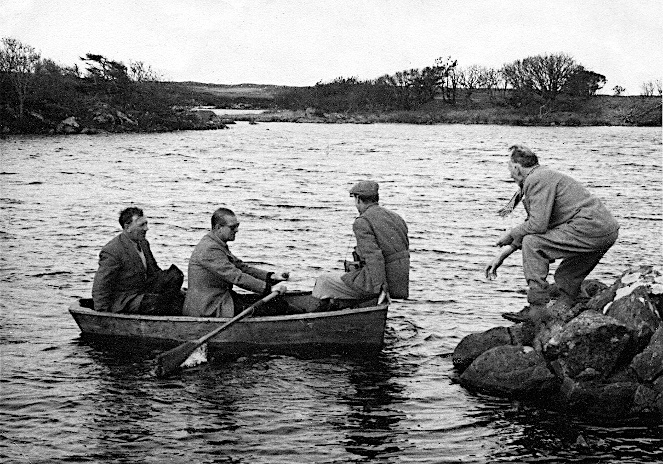 RSPB write in their magazine Nature's Home – and I quote – "A new community nature reserve has been created on South Uist after 1,100 acres of land was transferred by SNH (Scottish Natural Heritage). Loch Druidibeg is surrounded by moorland and peat bogs, havens for white–tailed and golden eagles, merlins, hen harriers and short eared owls, as well as wintering whooper swans. We are working with local organisation Stòras Uibhist to develop the new reserve for visitors."
Please also note that whilst many of my guests are fisherman, over 60% of my guests are general visitors, and all are most welcome.
Note that I require a minimum of 2 nights booking.
Bear in mind that restaurants are few and far between - and may require up to a 30-minute drive. Check the "Food page" on this site to make sure this is the sort of food you are happy to eat.
If staying at Kinloch to eat at night, I serve only one dish per course so it is important that you advise me of anything you do not eat. I have no problem in serving a fish only menu. You must advise me if you do not eat meat, fish or shellfish, – I am not equipped to cater for vegans.
The house is set in an acre of mature wooded gardens, rare in the usually treeless South Uist, and has its own Loch frontage, offering fantastic views across the water to the hills on the East coast.
Both golden and sea eagles fly in sight of the garden, otters work the nearby lochs and brown trout rise at the bottom of the garden.
This is the ideal accommodation to come to fish, bird watch, play golf, horse ride, walk, paint or just relax in a compelling natural environment. There is a much wider range of activities on the island than is appreciated. See Other activities section for a fuller list.
Fly Fishing
South Uist truly offers some of the finest wild Brown Trout and Sea Trout fishing in Europe.
For those interested in reading more about fishing at Kinloch link to "Eight Days in South Uist" written by an American visitor after his weeks fishing, also "Machair Magic" published in Fly Fishing and Fly Tying, written by well known angling writer Neil Patterson and again a chapter from his recent book Flyfishers Chronicle "Ian's Bumble". Finally an article "An Obsession with South Uist", which first appeared in the Piscatorial Society Journal, written by the highly respected fisherman Robin Mulholland.
There is not a stocked rainbow on the island. Whether fishing from a boat on one of the Estate machair lochs for specimen Brown or Sea Trout; or walking the hills, fishing the literally 100s of lochs run by the local Angling Club, for smaller wild trout this will be a unique fishing experience.
Many of my guests come to stay with me and fish, and I have considerable fly fishing experience both on Uist and around the world and can help advise of the best package for each individual.
Trout & Salmon magazine recognised master ghillie Ian Kennedy netting a fine grilse for Dave Westburg from Seattle at the Loch Bharp burn mouth.
For full details about the fishing see the relevant section on this site: The fishing. This section also includes a full 5 year summary of catch returns.
By no means do all my guests come for the fishing, and general visitors are more than welcome. Many come to enjoy, or take part in one of the following.
Bird Watching / Wildlife
The bird watching on the island is spectacular; most particularly for raptors and a very wide range of wading birds, plus a range of occasional rarities.
Kinloch is perfectly placed between the machair and the high ground on the East to take advantage of the full diversity of birds and wildlife. See "Other activities" for more detail.
I highly recommend Steve Duffield as a guide to show you the best of the birds and wildlife – www.western-isles-wildlife.co.uk – he will take you out and show you the birds and wildlife and on cold days bring you back to the warmth of Kinloch, comfy sofas and homemade scones.
In summer the days are very long and from June onwards the machair is at its best.
In the Summer the machair is home to many corncrakes – they can be heard calling on most days – actually seeing them is more difficult.
The flora and fauna of the machair can truly be described as "unique" – this is a very rare environment.
The island has a large head of pure Red Deer and an abundance of otters. There are no foxes or badgers on the island.
Shooting / Stalking
Guests staying at Grogarry Lodge have first call on the keeper's time, and the shooting, so opportunities for my guests are limited.
There is some excellent stalking available from August 12th and that can be organised for my guests by arrangement with the head keeper. This encompasses both culled hinds and trophy heads.
Golf
The links at Askernish, some 15 minutes' drive from Kinloch, was originally laid out by "Old" Tom Morris in 1891 and is now fully restored.
Some regard this as the finest 18 holes links course in the world.
Visitors are welcome and golf clubs are available for hire.
See www.askernishgolfclub.com for an update of progress.
Walking / Climbing
There is a very wide range of walking and climbing opportunities. The whole of the East coast side of the island is largely uninhabited and one can spend as many, or as few, hours as one chooses walking in wild places; with only deer and eagles for company.
Horse Riding
There are 2 stables on the islands offering horse riding, and a range of rides on and off road, including the beach.
Check out www.ridehebrides.org which describes some of what is possible and is the web site for the Uist Community Riding School - the main stables on South Uist and Benbecula.
The Beach
The west coast has 20 miles of silver sand beaches stretching from the Ardivachar headland to the southern tip of South Uist, broken only by one or two rocky headlands – OK maybe the weather is rarely suitable for sunbathing – but you may be surprised how few people you meet. You will however see the large flocks of waders, a wide range of ducks and gulls, lots of seals and even the occasional otter that all feed on or off the beach.
Boat trips
Nick Ingledew offers an excellent boat trip from Kallin on Benbecula. Just 3 hours off the East coast. Expect to see Sea Eagles etc. Check his web site www.uistboattrips.com.
Cultural activities
There are a range of opportunities to get involved with Gaelic culture and a rather fine local museum at Kildonan. There are also a very wide range of archaeological sites on the island including Neolithic dwellings, Viking round houses, chambered cairns, "brochs" and "duns".
I offer a Bed & Breakfast only service, Full Board, or a mix of the two.
Flexibility to suit you is the key.
I can accommodate a maximum of 5 guests, which allows for a "house party" atmosphere, and a very personal service.
It also allows me to arrange meal times to suit the best fishing or bird watching times, rather than the other way around.
I am confident that you will have a memorable stay here, regardless of the weather or the number of fish you catch!
I look forward to hearing from you.
This email address is being protected from spambots. You need JavaScript enabled to view it.

Kinloch

Grogarry

Isle of South Uist

HS8 5RR

Outer Hebrides

United Kingdom

Tel: + 44 (0) 1870 620 316